Fundraisers are the heart of nearly all volunteer stations. While most volunteer stations receive funds from their municipal government, these funds do not stretch as far as these firefighters need it to go. Maintaining and upgrading equipment and apparatus, as well as providing fire safety operations for the community are all made possible by grants and fundraisers. A department with out dated pagers or run down engines is not going to be able to efficiently respond to your house fire or car accident as they could if they had the funds to keep their things in top working order.
I'm a wife of a volunteer firefighter. Most of you who have been following this blog know that. Being a part of a volunteer fire station means fundraising. Soup and sandwich suppers, breakfasts, and ice cream socials are just a few of the things our station does. The wives usually make a majority of the food to send up - some of the guys do too. If there's anything they can cook or grill at the station just prior to the event they will. I'm always baking desserts and sending some sort of dish up to the station with 374 for each event.
However our support does not stop at our station. Firefighters consider EVERY OTHER firefighter a brother or a sister, not just those at his or her department. Most of the departments in our area provide mutual aid for each other quite often. So while the fire may be in our town, we could have two, three or four different departments respond to the call. It's important for us to support not only our station, but those in our neighboring towns as well. The kids get a kick out of attending breakfasts and dinners at different stations. They love checking out the engines and other equipment.
Over the weekend another volunteer department in a neighboring town was having a BBQ chicken dinner. Half a chicken and sides to go for a great price. This station just happens to be the station that hosted 374's Firefighter I class, and quite a few of his classmates are members of that department now. When he told me about the dinner, we marked it on the calendar.
The day was beautiful for the drive over, and well worth the tasty food. I snapped a couple pictures of the kids while they were looking at the engines. However, they were so excited to be exploring and the sun was so bright that they were less than thrilled with me doing so.
What have you done lately to support your local fire department??
Jack sporting his MN8 shirt from Zach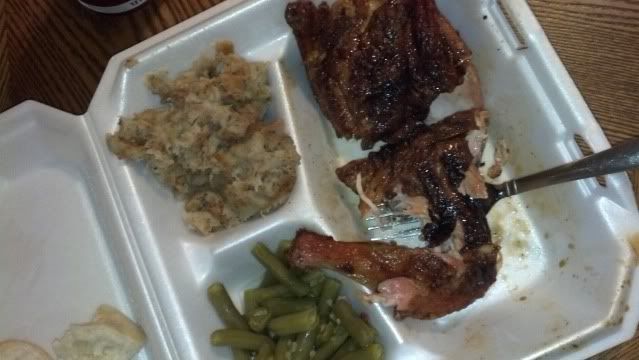 YUM!!!