A few weeks ago while in contact with
MN8
Products founder Zach Green, we realized we weren't very far from each other. Zach mentioned we should come down to the office for a visit in the future. Since we live in a very rural area, this was exciting for the kids as well as 374 and me.
You can see my review post on Zach's MN8 products HERE.
A couple weeks ago we set a date for last Friday. The
MN8
office, as well as some of Zach's fellow firefighters were having a lunch cook out. It would be about a three hour drive for us, but well worth it in my mind. I was very grateful to Zach for offering some product for us to review and wanted our trip down to speak for my gratitude.
Once we got down to the office, we were immediately welcomed by everyone we saw. Handshakes and smiles all around. The kids were a bit nervous at first, but warmed up. Zach was excited when Bubby handed him a patch from 374's department. He promised him he'd be able to hang it on the wall after lunch.
Bubby proudly pointing to 374's patch he personally hung on Zach's wall. It's the light blue triangle shaped one he's pointing to.
Zach was the executive chef for the afternoon. Burgers, hot dogs and fixings. It was a great meal after being on the road all morning.
Chef Zach grilling up lunch.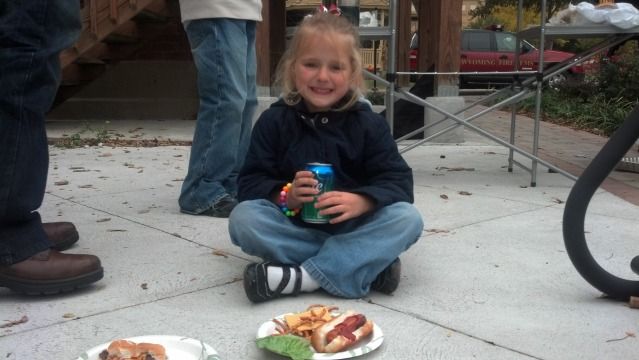 After everyone ate, Zach showed us a demo of some things they are working on for the future, as well as current products in their line. The kids enjoyed going into the dark room and seeing everything illuminate.
Hanging out in the office after lunch. We are in the far back of the pic.
374 enjoyed talking shop with the firefighters after lunch. He's really tossing back and forth the idea of pursuing a full time fire career, and this was the first time he's had the chance to chat with full timers. Mid conversation, the topic of damaging fire trucks came up. We offered up the fact that no one can be in a worse situation than our Engine 38. After sharing the story with Zach and his friends, Zach got very excited. He's been looking for a truck to use for a project inside his office. We share details of where the truck is now, and Zach said he was going to look into getting the truck. 374 and I think it would be very neat if they were able to get the engine and use it for their project.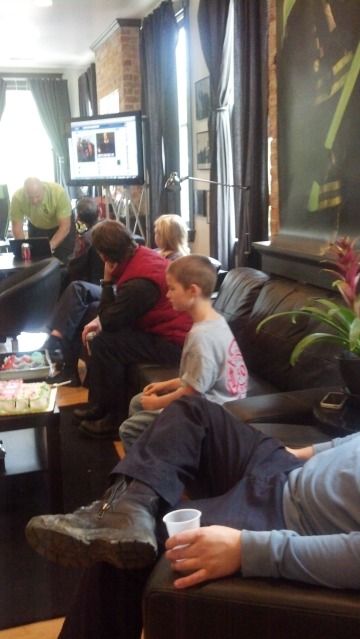 Bubby eyeing the desserts while 374 chatted
Before leaving the office the kids were presented with some awesome
MN8
swag - key chains and illuminating t-shirts. They promised to wear their shirts to school on Monday - which Bubby did! I need to snap pics of them in their shirts - they will be the feature pics for this week's Wordless Wednesday!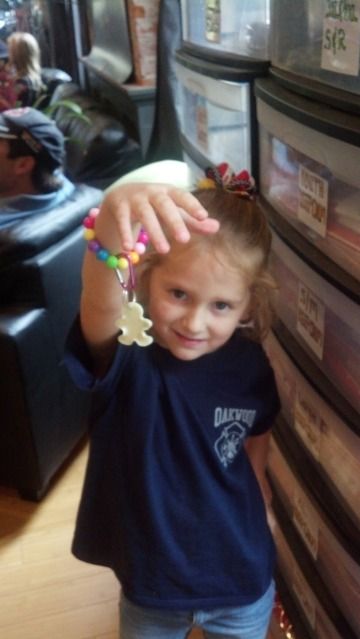 Sassy turned her key chain into a charm for her bracelet. This girl's got style!
When we arrived at the office, an engine, truck, and squad lined the street. The kids couldn't wait to get an up close view of them. The wonderful firefighters on duty allowed us to follow them back to their station at the end of the afternoon for a station tour. Our kids have only seen volunteer stations, and have always wondered what a full time station looks like.
We got the grand tour of the Woodlawn station thanks to Firefighter U. (I never caught his first name, and his last name was a long one and escapes me.) A big, big thank you goes out to him from the 374 family. He told us that the Woodlawn station is the testing ground for
MN8
products. Their tools were one of the first to be applied with Zach's illuminating epoxies and products. Any time a new product comes out, the Woodlawn station is one of the first to test them in the line of duty.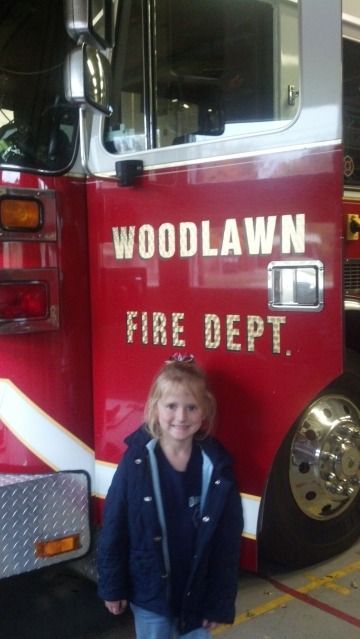 This kid loves fire engines!
Firefighter U immediately opened up all the trucks and engines and let the kids explore. All of the trucks and engines at 374's station allow them to sit forward facing, so when Bubby and Sassy climbed into the apparatus at the Woodlawn station, they immediately exclaimed, "Why do they ride backwards?" It made me chuckle. Firefighter U moved on to show the kids the "bus" (the kids were again utterly confused - I had to explain that another term for a squad was "bus"). He had them stand at the back end of it while he opened the door. The air system hissed and dropped the squad as the back doors opened. Bubby squealed and jumped back. He thought something broke. Then Firefighter U explained to him it was to help in loading patients. After he realized everything was okay, Bubby as all about climbing in to have an up close look. 374 was impressed with the bells and whistles on the squad as we learned it was a fairly new acquisition for the station that took a lot of thought and planning. The tour ended inside, where 374 and Bubby admired the wall with pictures and newspaper clippings of the station's experiences while Sassy met Hank the fish. We gave our thanks and returned to the car for our trip home.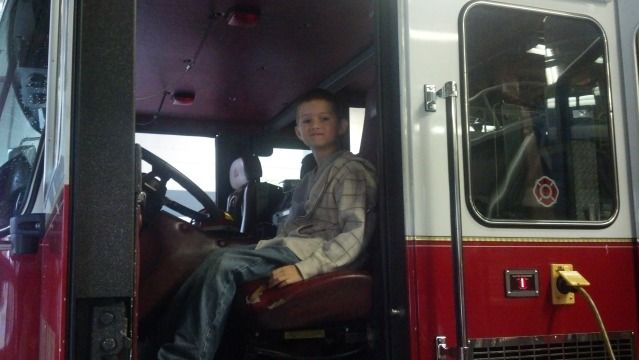 Doesn't matter how many engines you've sat in, it never gets old!
One of the very first tools to test the original MN8 products.
Bubby checking out the wall.
The kids have been talking about it all weekend. They had a great time. 374 and I really appreciated Zach and his colleagues opening their office and fire station to us for the afternoon. I look forward to staying in touch with Zach in the near future - I hope to work with him on some future projects, as well as hopefully assisting them in acquiring our old engine for their project.
Thank you
MN8
and Woodlawn firefighters. We really enjoyed our afternoon and are grateful for your hospitality! Hopefully one day we can return the favor!